Story of a Match: WBA
Lacking in the final third
Today showed the best and worst of Norwich. After a performance against Stoke where we surrendered the initiative and one against Chelsea that was full of bravery and battling performances, the performance against WBA was one that was more akin to the fluency of last year. We outpassed WBA 336-305, out tackled them 39-28, out intercepted them 23-15 and outshot them 18-15. These are all encouraging stats, showing a Norwich team that wasn't awed and was prepared to play its own game. Compare this to the other home game we've had, vs Stoke, and the improvement is there to see (despite the results). Against Stoke we surrendered the ball to play on their terms. Against WBA we played on our own.
As ever, these only tell half the story. While we did well in possession, up front we were lacking and we provided very few threats in the final third. We put in 21 crosses that failed to reach their target, from both sides of the pitch, and we struggled with putting quality in the box. Holt has a tendency to run the channels (as Morison also did), and when playing the diamond this was fine as we had less out there, but when playing a flat 4-4-2 it meant the WBA defence was relatively untroubled by balls into the box as there wasn't always someone there to receive them.
Secondly, when we did actually get a sight of goal, our finishing was poor. Of 18 shots, only 3 were on target, all of which were in the first half. The rest were either blocked or wayward (looking at you, Johnson). It's a cliché to say these are the games you've got to be winning, but despite WBA's turgid performance, Ben Foster had a perfectly untroubled afternoon. When four different strikers take to the pitch and fail to make him work, you're going to struggle.
Brawn over Brain
I'm in danger of repeating myself here; Wes Hoolahan has to be starting. I find it baffling that he starts two away games but is benched for two home games against perfectly beatable opposition. The preferred Lambert midfield partnership for the last three games has been Bradley Johnson and Crofts, a partnership that is based on running and tackling and not ability with the ball. And ultimately, and this might not be a popular opinion, but Crofts is a player who is going to struggle at this level.
Let's look at the two of them today. Johnson won 9 tackles to Crofts 3. This is the same pattern from Chelsea and Stoke. When your role in the team is to win the ball from the opponent and break up play, Johnson is doing it better than Crofts. He's also outpassing his teammate. I believe playing the two of them is overkill to begin with but I understood the rationale behind doing it vs Stoke, a physical team. Against others you are sacrificing guile for brute force, and not a great deal of it. Despite what many people think about Wes, he's got a defensive game and can put in a tackle himself. In fact, he won the ball the same number of times in half an hour, 3, as Crofts did in 90 minutes.
I know, I know, In Lambert We Trust, but I do find the decision to restrict Wes' playing time baffling (and Fox, to a lesser extent). Crofts, while an admirable player who was superb last year, showed today frequent poor touch and the turning circle of an oil tanker. By sacrificing your best and most creative player for one who is more one-dimensional, the team is going to suffer. Everyone saw the impact that Hoolahan had when he came on the pitch, and Norwich are simply a better team with him on it.
Naivety
I'm getting tired of talking about referees, and it's worth pointing out first and foremost that we didn't win today because we didn't deserve to. What's closer to the bone, however, is that we deserved to draw. Dodgy penalty decisions and flailing elbows aside, the referee had minimal impact on the game. We conceded a goal again through individual error. And again, it was Ritchie De Laet.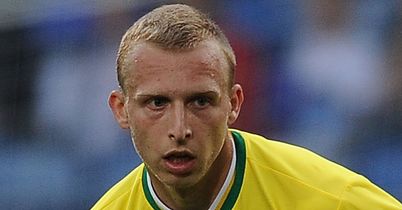 It's hard to fathom how De Laet can show equal amounts of composure and complete ineptitude but he manages to do it. Arguably one of our best players in the opening three games, he was nevertheless responsible for the penalty vs Wigan and the third goal vs Cheslea. Today it was a misreading of a ball – or a hesitation. In any case, the defence was evidently nervous as hell and it was easy to see why with Rudd in goal. This isn't going to be overly popular and may come across as harsh, but Rudd managed to show why he's not quite ready for this occasion. The penalty save was brilliant and his other save from Odemwingie kept us in the game, but these were two moments among shaky saves, poor handling, complete misjudging of the flight of the ball on a couple of occasions and the feet of Fraser Forster.
This isn't to blame Rudd for the goal; that isn't fair. But I would bet that De Laet wouldn't have made that mistake with Ruddy at the back, and I will be pleased to see the big man back in the sticks next week. But naivety is really killing us. Whether it's getting caught wrong side of attackers (Barnett), poor decision making (De Laet) or just not being wise or cynical, we are losing because of it. Of six conceded goals, five you can attribute to individual Norwich mistakes, and we've given away four penalties. The team needs to get streetwise, quickly.
Conclusions
Ultimately we suffered in this game from a combination of things; a spectacularly bad decision by the referee at the end, a lack of creativity and guile in the middle and some poor finishing. Some of these things are in our hands and some aren't, and you'll only survive in this league by taking control of your own destiny and removing luck from the equation. We shouldn't be sitting here talking about referees ruining games (again). We should be talking about how we made our chances pay, about how we put away the goals that the performance deserved. If you can't get the job done up front then it makes all the passing, the tackling and the hard work in the middle meaningless, and it's something Lambert will need to address at Bolton and Sunderland. In my opinion, a change of Crofts to Hoolahan is the first step, bringing in an all round game for a one dimensional player.