Story of a Game: Chelsea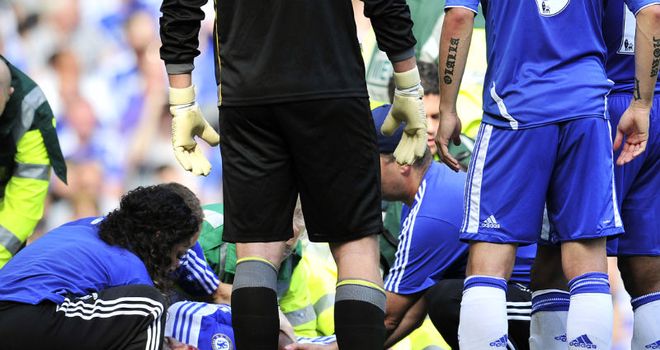 Some games can't really be examined or explained by chalkboards and stats. They turn on a couple of moments and that is that. Today is one of those games. I'm going to use some boards to demonstrate a couple of tactical things, but the story of todays game can be boiled down to a couple of refereeing decisions; one which wasn't given, and one which was.
For the third game in a row Lambert mixed things up, going in with a 5-3-2 formation and expecting the full backs to support in an attacking way. This didn't last too long as Zak became the latest player to be injured at that position, and Pilkington came on in his place. However, it was an interesting tactical gambit that left us both shaky to begin with, but looking increasingly solid as the half wore on. Tierney and Naughton both contributed in the Chelsea half, making more passes there than they did in their own. This setup also contributed to Chelsea playing their fullbacks high with both Cole and Bosingwa playing far up the pitch. With both teams playing without natural wide men (for a time), the fullbacks were the tactical story.
As the shot above shows, Bosingwa was dominant down the right side, spending a lot of time in our half. This told after just 5 minutes when he took a shot from distance. I'm going to bang this bloody drum every single game it happens, but…
Give a player an opportunity to shoot, and he will. We were warned by Ramires two minutes before, and Bosingwa made us pay. Whether it's Stoke, MK Dons or Chelsea, the tendency of the Norwich midfield and defence to let teams play in front of them is worrying. With 5 at the back this should be especially the case as you'll always have a spare CB.
To Norwich's credit, things tightened up after this. Bradley Johnson in particular had a good game, coming out to break down Chelsea attacks repeatedly, and help start a few of our own. Towards the end of the first half we created more and more, Holt going agonisingly close after breaking the offside trap and Wes running the show in the middle. Hoolahan was outstanding on his return to the team and linked with Tierney and Chris Martin to great effect down the left.
The ability of Norwich to hold Chelsea and match them was exemplified by Barnett and De Laet, the two best CB's at the club. Both put in excellent performances (more on De Laet later), were strong in the tackle, read the game well and kept the Drogba/Torres pairing completely quiet and frustrated.
The picture above shows just one stat, tackles, and the success of both men in winning the ball, stopping attacks and clearing it was very important to what was a good performance. They both made a number of timely interceptions and generally kept the Chelsea attack under control. In fact, for all of Chelsea's possession (which is put between about 65 and 70% by different outlets) and the wild difference in passing stats (157 to their 484), Chelsea were creating no more than Norwich. Their passing repeatedly broke down in the final third as they hit long shots over, crosses didn't find their mark or Norwich defended well.
The picture above is a heatmap of Chelsea's unsuccessful passes, clustering around the wings and high up the pitch. Norwich were able to hold off one of the championship contenders and deservedly equalise, even if Hilario did cock it up. Holt's lovely finish was no less than we deserved as we put pressure on the defence and exposes the lack of trust the Chelsea backline had in the stand-in keeper.
But ultimately, this isn't where the game was won and lost. Both teams were putting their all into winning and who knows how the last twenty minutes would have gone if it remained 11 vs 11. But it didn't. Minutes after Mr Beachball bottled a decision on Fernando Torres, he sent Ruddy off after bringing down Ramires in the penalty area. Down to ten men, down 2-1 once the spot kick was converted, and Norwich were always going to struggle. We played out the remainder of the game admirably, continuing to get the ball forward and Morison had two wonderful chances that could have changed the game, but deep into injury time we conceeded a third. While many have pointed fingers and commented on De Laet's 'frequent' errors, he simply overhit a pass in the 100th minute when, if we weren't losing, he would have clearly belted the ball out for a throw. He didn't contribute to our defeat, and the mistake is forgivable.
For me, what isn't forgivable and what winds me up immensely, is the massive inconsistency in refereeing. The red card for Ruddy was given as he supposedly denied a clear goalscoring opportunity. Except Ramires, in his rush to get the ball past Ruddy and hit the deck, hit it wide and away from goal as Pilkington raced to the line. The ball was clearly going away from the net as Ruddy made contact.
While it may be tough to make out there, the ball is bobbling about behind Ramires who's done his rolls by this point. The inconsistency arrives when other goalkeepers are given just yellow cards for this. At Premier League level you should be able to expect a standard of refereeing that doesn't change from game to game, and you should be able to expect a ref who doesn't bottle a red card for the £50m striker on the home team. Already on a yellow, Torres obviously, and cynically, took out a Norwich player to stop a breakaway. It was as clear a yellow card as you'll see, and one any other player on the pitch would have received, but the ref bottled it.
There are some things in the game you have a power to change and some you don't. Your own performances and mistakes you can do something about, but a referee who's a homer is something you can't account for. All of this results in a scoreline that flatters a Chelsea team who were utterly unconvincing for most of the game, and is harsh on a Norwich team who matched one of the biggest teams going. Losing 4-0 would be easier to take than being level and having your chance taken away from you. It feels disappointing because it's a game we could, and should, have got something from. And that tells you all you need to know about a brilliant Norwich performance.