Story of a Game: Stoke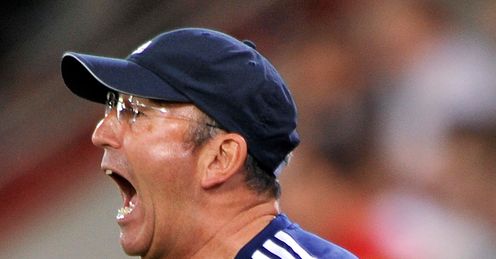 The match against Stoke was defined by two things: the change in tactics from Paul Lambert from the outset, and the red card given to Leon Barnett after 63 minutes. The team that began the match was markedly different from that which played Wigan, with Naughton, Barnett, Johnson, Pilkington, Bennett and Chris Martin all getting starts. This meant we switched from our typical diamond to a flat 4-4-2 with attacking wingers and a tough tackling midfield. So how did this work out?
The Flat Four
The midfield was the biggest change, as it meant the entire way we play was shifted. Instead of passing the ball methodically, mainly through the middle and with a player (Fox) to dictate this, we played with two central players who's talents lie mainly in their tackling. This was evident as Norwich passed with less fluency than against Wigan, almost accepting to play the game on Stoke's terms. Stoke, a team not known for passing, outpassed Norwich throughout the game and this is highlighted by comparing Crofts' and Whelan's stats. Whelan showed his ability to switch the ball from flank to flank and keep the team ticking while Crofts was more reserved and unable to get his foot on the ball as often. The team passing stats were 330-259 in Stoke's favour. But with the change in emphasis, this was not a problem. The tactic was clearly to get the wide players involved to help create chances, rather than trying to build up through the centre. This meant both Bennett and Pilkington were heavily involved pre-sending off, especially Pilkington who had a superb first half. 
The key difference in approach that helped Stoke remain strong in the game, especially from half time until the sending off, was their ability to apply pressure to our defence and midfield. I don't want to keep banging on the same drum, but Norwich's best chances today came from the two or three occasions that strikers or wingers pressed high on Stoke's defence and made them cause problems. Chris Martin did it to Woodgate and Bennett did it to Huth.
So, like last week, I'll use the above. Both teams used a big lump of a striker, but one was much more active in trying to win the ball up the field. Holt had a good game (but was absolutely shagged by 80 minutes), and he was not useful in winning the ball. That was left to our defence, who were superb throughout, but often not given the help that was needed.
Red Card
The real turning point came with the red card for Leon Barnett. Right or wrong, it turned the game on its head. Stoke, who were creating stuff all before, suddenly had a way back into the game. Despite Walters missed penalty, the final half an hour was always going to be a recreation of the Alamo and Norwich defended admirably throughout. A real indication of the level of Stoke's dominance after the red card can be seen below.
The top graphic shows Stoke passing before the red card. Blue arrows are successful passes. As you can see, it was a mixed back, with plenty of passes going astray at all levels of the pitch. The graphic below is from 63 minutes onwards, and shows just how successful their passing was. With no one applying pressure and Norwich sitting back and aiming to soak up attacks, Stoke were able to build patiently and methodically. Norwich invited attacks again and again. This isn't a criticism. We were only 1 up with 10 men, it was completely natural. I merely say it to highlight just how much that red card swung the game. The Stoke goal came from a long passing move  and one in which Norwich just waited for the ball to come in. It is during this half hour that the defence needed more help from everyone else, but they didn't get enough in my opinion. Too many times Holt and Martin (who also had a cracking game) were not harassing Stoke players enough, or getting back enough, and it left the defence isolated at times. 
This second graphic backs up this point. The top half shows tackles (blue are successful) in the first half, while the bottom shows the second half. The drop in second half tackles shows a Norwich side that sat back more, trying to soak up pressure more than getting stuck in. Obviously the risk with trying to get stuck in is getting caught out of position, and when you're down to ten men, it's enormously dangerous. But both the passing and tackling stats point to a Stoke team who were being handled when it was 11 vs 11 and who suddenly scented blood when vs 10. They came back into the game only because of the red card. 
One way in which Lambert did try to address Stoke's dominance was in taking off Bennett, who was becoming a peripheral figure, and bringing on Andrew Surman. Presumably this was done in order to put on a player who could help win the ball as well as actually hold on to it. We were struggling with ball retention and having someone who could accurately pass or slow the pace would have been good. 
Unfortunately, Surman was a bit rubbish. He only won the ball once and completed 2 passes in 15 minutes. I don't want anyone to accuse me of not having faith in Lambert (I do), and I am very happy with how the team performed in this game, but this sub had no effect. In my view, putting on Fox (who can at least pass) or Wes (who's defensive side is far better than people credit, and is excellent at keeping the ball) would have been more effective. This isn't to say we conceded because of Surman and we'd have won with the others. I just see these players as more useful in this situation. 
All in all the game was a nervewracking, tense, gutting experience but I'm proud of the way the team performed. You don't just win games by attacking and the art of defending can win games on its own, and we were 2 minutes from winning with an outstanding defensive performance. De Laet, Ruddy and the rest take enormous credit for dealing with Stoke until the 94th minute. The red card changed the game and Stoke took advantage, but all Norwich fans will be happy with Lambert showing versatility in his tactics and seeing good performances from players like Bennett, Pilkington, Naughton and Chris Martin who came in. Losing the excellent Barnett for 3 games will hurt, but when you look at how we performed, you'll struggle to find an unhappy fan.